Keep Your Home Dry To Avoid Mold Problems
That will mean mopping up flood spills, repairing leaks in the roof, ensuring plumbing and HVAC systems are maintained and that the kitchens and bathrooms are properly vented. If you or other members of your family have started feeling ill, or you are experiencing allergies, or your asthma is deteriorating, you need medical help and mold remediation help to get rid of this plague in the home. Mold spores easily become airborne and most types, especially the black mold, can cause extensive structural damage.
Mold Thrives When It Is Wet
When water damage happens, it can take only a mere 24 to 48 hours for mold to start growing. Never let water stand around in your home, start mopping up immediately, as well as reporting water damage to your insurance company. Thank goodness there are excellent carpet, rug, and upholstery cleaners who will not only help you disinfect these items of value in your home but will also approach those problems by means of skilled mold remediation experts and high-quality equipment to get rid of mold in your house or office. It can be a huge health hazard for the entire family if it is not taken care of as soon as possible. There are nasty mold-related illnesses that can cause severe health problems. If you face black mold, there are black mold testing companies to deal with the issue. Mold causes lots of damages inside your home and can stay and sometimes regrow a few months later if not treated properly.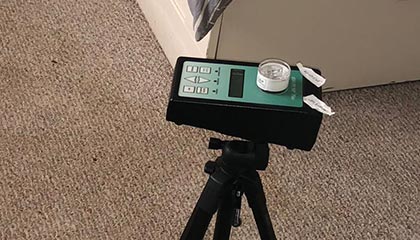 Signs you might need a mold testing service
Musty damp smells from the air-conditioners
The grout in your bathroom between the tiles is dark
The wallpaper is peeling
Your nose stays blocked
There are colored spots and marks on the walls
Skin feels itchy
You continually experience allergies
You feel tired all the time
Professional Mold Inspectors to the Rescue
Mold testing services will be undertaken by our professional mold inspector. We work together with our partner, O2 Mold Testing, for this service. This company offers the same reliable, unbiased mold testing service that we do, and helps us to expand our availability and response time for our customers.
The mold inspector will carry out a variety of tests which will get evaluated in a mold testing laboratory. These could be indoor air quality samples, cavity samples, and surface samples, for example. If mold is found using a mold test meter, a remediation plan will be put in place and the source of the moisture that is causing the mold to grow will also be dealt with. Moisture must be removed from the dry walls of your home. If not, the mold can simply grow back. Often soft surfaces like carpets or carpet pads will need to be cut out and replaced with new ones. In fact, it is impossible to clean all the mold from porous surfaces like these.
Clearing Up the Mold by Yourself?
If the contamination goes beyond 10 square feet, the EPA recommends you get in contact with mold contractors who are experienced in remediation services. If you want to know what will need to be done, mold inspection and testing are excellent ways to find out. Our professionals will be able to define for you exactly what will need to be done to remediate the mold. Mold can be dangerous and unpleasant to work with, particularly for someone with asthma and allergies. Leave the issue of mold-contaminated areas to the professionals who have the right safety gear and equipment to fight mold.
Mold is a serious problem and getting mold testing services before it grows out of control can save you thousands of dollars. This makes the cost of having a mold inspection worth it to save a few hundred dollars when you are buying a new house.
Why Choose Us?
Wait till you see us pull up at your house and deal with the mold problem at your home. If you suspect mold, we know what a hardworking process it is to remove it. Just a few spores can cause allergic reactions. Any movements can cause mold to release spores into the air. Research shows that up to one billion mold spores can be found in just one square foot of drywall!
Look for honest-to-goodness mold testing service professionals, who don't go by the slogan "mold is gold." We are established and well-equipped, with the right training and committed to our work. Get results that are accurate and reliable.
Choose us, call, connect with us at 469-460-8541